The Division of Human Genetics, founded in March 2013, represents a new unit within the Department of Molecular Genetics and Microbiology, that serves as a focal point for human genetics research in our department, and more broadly across the entire Duke campus. Our mission is to bridge the gaps between risk variant discoveries and molecular mechanisms, and between mechanistic understanding and novel therapeutics for human (genetic) disease. We seek to be inclusive of the various researchers across our campus that engage in a broad spectrum of research topics covering all aspects of human genetics.
NEWS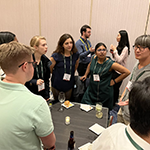 At the annual ASHG meeting in Los Angeles, the MGM Division of Human Genetics hosted a Duke Alumni Reception.  Many of the human genetics programs across the country host these networking events at this annual meeting.  Approximately 35 current and former Duke students, faculty, fellows and collaborators attended the reception.  This was a great opportunity to speak with old friends and colleagues, and meet new ones. To see photos of the event, click here.

It is with great pleasure that we announce that Beth Sullivan, PhD, Associate Professor of Molecular Genetics and Microbiology, has been named Associate Dean for Research Training for the Duke University School of Medicine, effective July 1, 2019.
As Associate Dean for Research Training, Dr. Sullivan will oversee the Office for Biomedical Graduate ​Education and ​coordinate activities with the Office for Postdoctoral Affairs. She will provide leadership and broad strategic vision for all areas related to research training for biomedical Ph.D. students and postdoctoral appointees. In this role, Dr. Sullivan will develop and implement new initiatives to enhance the quality and efficacy of the Ph.D. training process including development of best practices in core curriculum development, evaluation and assessment, and efforts to enhance career and professional development opportunities. Her duties will include serving as a liaison to the Graduate School, directors of graduate studies, program directors, affiliated faculty, ​and trainees.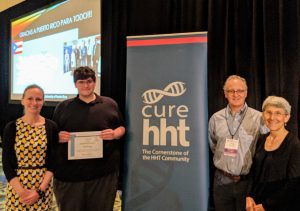 MGM graduate student Dan Snellings won first prize for best Oral Presentation in the Basic Sciences Category at the International Scientific Conference on Hereditary Hemorrhagic Telangiectasia, held in Rio Grande, Puerto Rico last week. This conference, held every two years, brings together physicians and scientists from around the world who are studying this hereditary vascular disease. Dan's presentation showcased his discovery that the vascular malformations in HHT contain bi-allelic (germline plus somatic) mutations in the causative genes. His work overturns a long-standing but incorrect assumption that HHT is caused by haploinsufficiency of the gene product.
———
The American Society of Human Genetics annual meeting will be held in Houston, TX from 15-19 October. The deadline to submit abstracts is June 6, 2019. More details can be found here. Trainees are especially encouraged to submit abstracts for platform and poster presentations, making them eligible for student travel awards and research prizes. The Duke Division of Human Genetics will hold an evening reception during the ASHG meeting.  The reception will be held at Grotto Ristorante, 1001 Avenida de las Americas, Suite A, on Wednesday October 16, from 7:30 – 9:30 PM.  This will be a great opportunity to casually interact with current and former Duke colleagues.
————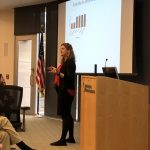 The Duke Division of Human Genetics held its 2nd annual retreat on March 15th 2019 at the NC Biotechnology Center in Research Triangle Park. The day of science included two keynote talks by Dr. Christa Lese Martin (Geisinger Health System) and Dr. Mark Gerstein (Yale) and short presentations by trainees working in Duke labs that have a focus on human genetics research.New MGM faculty member Dr. Clare Smith, who will arrive at Duke in Fall 2019, also gave a presentation on her research that intersects genetics and TB infection. The day ended with a trainee poster session and happy hour. Please click here for more photos from the retreat.