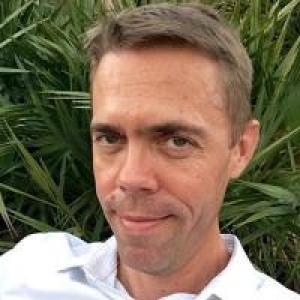 Principal Investigator
Professor of Molecular Genetics and Microbiology
Professor in Medicine
Professor of Cell Biology
Member of the Duke Cancer Institute

Location
323 CARL Building
Research
Integrative Biology of Host-Microbiome Interactions in the Digestive System 
We seek to understand how the intestinal microbiome contributes to vertebrate physiology and disease. To that end, we leverage complementary zebrafish and mouse models to study the integrative physiology of host-microbiome interactions. This work has identified novel and conserved mechanisms by which intestinal bacteria regulate dietary fat metabolism and systemic innate immunity. We also apply genomic approaches in these animal models to understand the transcriptional regulatory pathways utilized by the intestinal epithelium to mediate host responses to the microbiome. These studies have identified mechanisms of transcriptional and chromatin regulation that have been conserved during vertebrate evolution and also contribute to modern human diseases such as the inflammatory bowel diseases, obesity, and diabetes. To further advance our understanding of obesity pathophysiology, we developed the zebrafish as a model system for studying adipose tissues and identifying new environmental and genetic regulators of adiposity. We are also engaged in translational research in humans and animal models to define microbial and metabolic determinants of obesity and efficacy of weight loss intervention. Grounded in comparative and integrative physiology, our research program has been effective in discovering ancient mechanisms of host-microbiome interaction that are conserved across animal taxa and contribute to the etiology of human disease. For further information, see our lab website.
Biography
John Rawls is a Professor in the Department of Molecular Genetics and Microbiology, and serves as Director of the Duke Microbiome Center. He holds additional secondary appointments in the Center for Host-Microbial Interactions, Center for Genomic and Computational Biology, and the Duke Cancer Institute. After completing his undergraduate education at Emory University (1992-1996), he received a Ph.D. in Developmental Biology from Washington University under the mentorship of Dr. Stephen Johnson (1996-2001). He then trained as a postdoctoral fellow with Dr. Jeffrey Gordon at the Center for Genome Sciences at Washington University (2001-2006). Prior to joining Duke, he was a faculty member at the University of North Carolina at Chapel Hill (2006-2013).
Lab Members
Alumni
Graduate Students:
James Davison, Ph.D (current position: Senior Translational Genomics Scientist, GeneCentric Therapeutics)
Sandi Wong, Ph.D. (current position: Medical Writer, Vaniam Group)
Ivana Semova, Ph.D. (current position: Staff Scientist, Regeneron Pharmaceuticals)
Gray Camp, Ph.D. (current position: Group Leader, Institute of Molecular and Clinical Ophthalmology, University of Basel, Basel, SUI)
Michelle Kanther, Ph.D. (current position: Visiting Assistant Professor, Bryn Mawr College, Philadelphia, PA)
S. Ted Espenschied, Ph.D. (current position: Postdoctoral Fellow with Dr. Thad Stappenbeck, Lerner Research Institute, Cleveland Clinic)
Caitlin Murdoch, Ph.D. (current position: Postdoctoral Fellow with Dr. Eric Skaar, Department of Pathology, Microbiology, and Immunology, Vanderbilt University)
Postdoctoral Fellows:
Sol Gomez De La Torre Canny, Ph.D. (current position: Microbiome Specialist, Skretting, Norway)
James Minchin, Ph.D. (current position: Principal Investigator, BHF Centre for Cardiovascular Science, University of Edinburgh, Queens Medical Research Institute, Edinburgh, UK)
Jordan Cocchiaro, Ph.D. (current position: Program Manager, Duke Human Vaccine Institute, Durham, NC)
Linh Pham, Ph.D. (subsequent position: IRTA Postdoctoral Fellow with Dr. Karen Adelman, NIEHS)
Jennifer Heppert, Ph.D. (current position: Postdoctoral Fellow with Dr. Heidi Goodrich-Blair, University of Tennessee)
Lihua Ye, Ph.D. (current position: Assistant Professor, Department of Neuroscience, Ohio State University)
Research Staff:
Rebecca Graham
Shelia Janardhan
Patrick Williams
Edward Flynn
Lantz Mackey
Michela Osborn
Jessica Russell
Laura Schulte
Chad Trent
Undergraduate Students:
Adriana Guzman Holst
Dustin Hadfield
Sung Baek
Jamie-Lee Beckford
Gabriel Beluchukwu
Amber Bivins
Ian Cassidy
Camil Craciunescu
Jaquay Davis
Howard Deng
T. Conor Guest
Alvin Han
Christopher Harvey
Yasmine Jackson
Amelia Jazwa
Gabrielle Johnson
Caitlin McCormick
Janine Rose
Dolvin Speight
Connor Traugot
Amanda Velez
Lysk Wyckoff
Jenny Yang
Jinee Yoon
Soraya Zakerin
Brad Woodie
Publications
Pubmed:
Pubmed List
Selected Publications:  
Wen, J., Padilla Mercado, G., Volland, A., Doden, H.L., Lickwar, C.R., Crooks, T., Kakiyama, G., Kelly, C., Cocchiaro, J.L., Ridlon, J.M., and Rawls, J.F. (2021) Fxr signaling and microbial metabolism of bile salts in the zebrafish intestine. Science Advances 7 (30), eabg1371. https://advances.sciencemag.org/content/7/30/eabg1371
Ye, L., Bae, M., Cassilly, C.D., Jabba, S.V., Thorpe, D.W., Martin, A.M., Lu, H.-Y., Wang, J., Thompson, J.D., Lickwar, C.R., Poss, K.D., Keating, D.J., Clardy, J., Jordt, S.-E., Liddle, R.A., and Rawls, J.F. (2021) Enteroendocrine cells sense bacterial tryptophan catabolites to activate enteric and vagal neuronal pathways. Cell Host & Microbe 29: 179-196.
McCann, J.R., Bihlmeyer, N.A., Roche, K., Catherine, C., Jawahar, J., Kwee, L.C., Younge, N.E., Silverman, J., Ilkayeva, O., Sarria, C., Zizzi, A., Wootton, J., Poppe, L., Anderson, P., Arlotto, M., David, L.A., Wei, Z.Z., Dressman, H.K., Granek, J.A., Valdivia, R.H., Newgard, C.B., Shah, S.H., Seed, P.C., Rawls, J.F., and Armstrong, S.C. (2021) The Pediatric Obesity Microbiome and Metabolism Study (POMMS): Methods, Baseline Data, and Early Insights. Obesity 29(3): 569-575. [PMCID: PMC7927749] (edited)
Ye, L., Mueller, O., Bagwell, J., Bagnat, M., Liddle, R.A., and Rawls, J.F. (2019) High fat diet induces microbiota-dependent silencing of enteroendocrine cells. eLife 8:e48479. https://elifesciences.org/articles/48479
Martiny, J.B.H., Whiteson, K., Bohannan, B., David, L.A., Hynson, N., McFall-Ngai, M., Rawls, J.F., Schmidt, T., Abdo, Z., Blaser, M., Bordenstein, S., Bréchot, C., Bull, C., Dorrestein, P., Eisen, J., Garcia-Pichel, F., Gilbert, J., Hofmockel, K., Holtz, M., Knight, R., Welch, D.M., McDonald, D., Methe, B., Mouncey, N., Mueller, N., Pfister, C., Proctor, L., and Sachs, J. (2019) The emergence of microbiome centers. Nature Microbiology 5: 2–3. https://www.nature.com/articles/s41564-019-0644-x
Espenschied, S.T., Cronan, M.R., Matty, M.A., Mueller, O., Redinbo, M.R., Tobin, D.M., and Rawls, J.F. (2019) Epithelial delamination is protective during pharmaceutical-induced enteropathy. Proc. Natl. Acad. Sci. U.S.A. 116(34): 16961-16970. https://www.ncbi.nlm.nih.gov/pubmed/31391308
Murdoch, C.M., and Rawls, J.F. (2019) Commensal microbiota regulate vertebrate innate immunity – insights from the zebrafish. Frontiers in Immunology 10:2100.   https://www.frontiersin.org/articles/10.3389/fimmu.2019.02100/full
Murdoch, C.C, Espenschied, S.T., Matty, M.A., Mueller, O., Tobin, D.M, and Rawls, J.F. (2019) Intestinal Serum amyloid A suppresses systemic neutrophil activation and bactericidal activity in response to microbiota colonization. PLoS Pathog 15(3): e1007381
Minchin, J.E.N., Scahill, C.M., Staudt, N., Busch-Nentwich, E.M., & Rawls J.F. (2018) Deep phenotyping reveals genetic and diet-induced adiposity changes in zebrafish. J. Lipid Research 59(8):1536-1545. [PMCID: PMC6071777]
Lickwar, C.R., Camp, J.G., Weiser, M., Kingsley, D.M., Furey, T.S., Sheikh, S.Z., and Rawls, J.F. (2017) Genomic dissection of conserved transcriptional regulation in intestinal epithelial cells. PLoS Biology doi.org/10.1371/journal.pbio.2002054.
Davison, J., Breton, G., Song, L., Crawford, G.E., and Rawls, J.F. (2017) Microbiota regulate intestinal epithelial gene expression by suppressing the transcription factor Hepatocyte nuclear factor 4 alpha. Genome Research 27: 1195-1206.
Minchin, J.E.N., and Rawls, J.F. (2017) A classification system for zebrafish adipose tissues. Dis. Models & Mech. 10: 797-809.
Leulier, F., McNeil, L., Lee, W.-J., Rawls, J.F., Cani, P., Schwarzer, M., Zhao, L. and Simpson, S. (2017) Integrative physiology: at the crossroads of nutrition, microbiota and animal physiology. Cell Metabolism 25(3): 522–534.
Bae, S., Mueller, O., Wong, S., Rawls, J.F., and Valdivia, R.H. (2016) Genomic sequencing-based mutational enrichment analysis identifies motility genes in a genetically intractable gut microbe. Proc Natl Acad Sci USA. 113(49): 14127-14132.
Wong S., Stephens W.Z., Burns A.R., Stagaman K., David L.A., Bohannan B.J., Guillemin K., Rawls J.F. (2015) Ontogenetic differences in dietary fat influence microbiota assmebly in the zebrafish gut. mBio 6(5):e00687-15.
Minchin, J.E.N., Dahlman, I., Harvey, C.J., Mejhert, N., Singh, M.K., Epstein, J.A., Arner, P., Torres-Vázquez, J., and Rawls, J.F. (2015) Plexin D1 determines body fat distribution by regulating the type V collagen microenvironment in visceral adipose tissue. Proc Natl Acad Sci USA 112(14):4363-8.  Featured on cover.
Marjoram. L., Alvers, A., Deerhake, M.E., Bagwell, J., Mankiewicz, J., Cocchiaro, J.L., Beerman, R.W., Willer, J., Katsanis, N., Tobin, D.M., Rawls, J.F., Goll, M., and Bagnat, M. (2015). Epigenetic control of intestinal barrier function and inflammation in zebrafish. Proc Natl Acad Sci USA 112(9):2770-5.
Kanther M, Tomkovich S, Sun X, Grosser MR, Koo J, Flynn EJ, Jobin C, and Rawls JF (2014) Commensal microbiota stimulate systemic neutrophil migration through induction of Serum amyloid A. Cell. Microbiol. 16(7):1053-67.
Camp JG, Frank CL, Lickwar CR, Guturu H, Rube T, Bejerano G, Crawford GE, and Rawls JF. (2014) Microbiota modulate transcription in the intestinal epithelium without remodeling the open chromatin landscape. Genome Research 24(9):1504-16. Featured on cover.
Goldsmith JR, Cocchiaro JL, Rawls JF, Jobin C. (2013) Zebrafish glafenine-intestinal injury is ameliorated by mu-opioid signaling via enhancement of Atf6-dependent cellular stress responses. Dis Model Mech. 10.1242/dmm.009852.
McMenamin SK, Minchin JE, Gordon TN, Rawls JF, and Parichy DM. (2013) Dwarfism and increased adiposity in the gh1 mutant zebrafish. Endocrinology. 154(4):1476-87.
McFall-Ngai M, Hadfield MG, Bosch TC, Carey HV, Domazet-Loso T, Douglas  AE, Dubilier N, Eberl G, Fukami, T, Gilbert SF, Hentschel U, King N, Kjelleberg S, Knoll AH, Kremer N, Mazmanian SK, Metcalf JL, Nealson K, Pierce NE, Rawls JF, Reid A, Ruby, EG, Rumpho M, Sanders JG, Tautz D, Wernegreen JJ. (2013) Animals in a bacterial world, a new imperative for the life sciences. Proc Natl Acad Sci U S A. 110(9):3229-36. 
Semova I, Carten JD, Stombaugh J, Mackey LC, Knight R, Farber SA, Rawls JF. (2012) Microbiota regulate intestinal absorption and metabolism of fatty acids in the zebrafish. Cell Host & Microbe. 12(3):277-88.
Camp JG, Jazwa AL, Trent CM, Rawls JF. (2012) Intronic cis-regulatory modules mediate tissue-specific and microbial control of angptl4/fiaf transcription. PLoS Genetics 8(3):e1002585.
For a full list of publications, please click here.