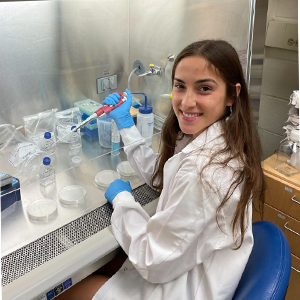 Undergraduate Researcher - MGM SURE Fellow
Contact Information:
Class of 2025 Undergraduate at Duke University
Majoring in Cell and Molecular Biology with a minor in Spanish and Religious Studies
Paloma was born in Boston, MA along with her older brother and younger sister. When she was about 5 years old, her family moved to California where she spent the rest of her childhood until graduating from Granite Bay High School in May of 2021. Ever since her 8th grade science class, she became fascinated by hands-on laboratory work and loved the process of creating experiments and interpreting their results. She took AP Biology and AP Chemistry in high school and continued to fall in love with exploring molecular underworkings of organisms, especially their immune systems and genetics. Paloma was a part of the first-year FOCUS program at Duke in which she took classes on epigenetics and ethics of genetics. She plans on taking more immunology and genetics classes through her undergraduate time at Duke and longs to achieve a PhD.
After attending a lecture from Dr. Smith in one of the FOCUS program's Guest Speaker events, Paloma wished to know more about Dr. Smith's laboratory work on the interactions of host and disease genetics and hoped to find an opportunity to explore the area by working in her lab for the summer. She started working in Dr. Smith's lab her summer after freshman year with the support of the MGM Summer Undergraduate Research Experience (SURE) Fellowship. As part of the fellowship, she will complete 10 weeks of summer research in the lab and put together a poster to share all the work she has been completing throughout the summer. She can't wait to share this amazing experience with the rest of the department and her fellow classmates.
Outside of scholastics, Paloma has played tennis for most of her life from participating in USTA tennis tournaments throughout the years to being captain of her high school girls tennis team. She now plays as part of the Duke Club Tennis Team, and enjoys staying active. Paloma also loves to bake, listen to Taylor Swift, play piano and tenor saxophone, read novels, and travel with her family. Her family is incredibly important to her, and she enjoys creating and reminiscing on wholesome memories with her loved ones.