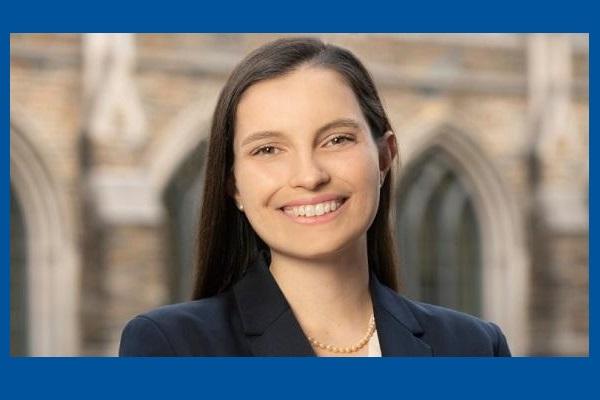 Rebecca Gibson, who recently defended her dissertation, has been given the 2023 Winn Inclusive Excellence Student Award for her achievements in mentoring. The Michelle P. Winn Awards honor individuals and teams who exemplified inclusive excellence over the past year.
Working in the lab of Priya Kishnani, Rebecca has mentored more than a dozen graduate, undergraduate, and high school students, most of them women, and many of them Latinx and first-generation college students.  
Rebecca has built an advanced learning curriculum for her mentees, holds weekly meetings, and advocates for their work and inclusion in Duke projects. During the early days of the COVID-19 pandemic, Rebecca created and hosted a weekly journal club so that her students who could not physically attend could continue to learn and participate.
Rebecca's mentoring work also extends to the School of Medicine's Building Opportunities and Overtures in Science and Technology (BOOST) program, which helps Durham middle and high school students from underrepresented and financially disadvantaged backgrounds prepare for and gain interest in science. Rebecca first joined BOOST as a coach in 2018. Later, she founded BOOST Beyond, a program that helps graduated BOOST students prepare for and apply to college. BOOST Beyond has grown to include a cohort of 17 mentees supported by 38 mentors; nine of its graduates have gone on to top colleges with scholarships.
Click here to read more about Rebecca and the other 2023 Winn Award recipients.