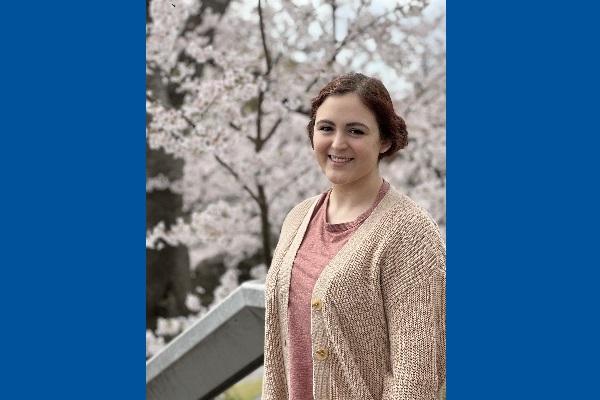 MGM's Rachel Meade (Smith Lab) was awarded the GSA Prize for Outstanding Trainee Talk at the 36th International Mammalian Genome Conference in Japan for her presentation, "Host genetic determinants of tuberculosis susceptibility".
Rachel is a rising fifth-year graduate student whose research focuses on genetic variation in both the host and the bacterium as a predictor of disease outcome. Her primary project, which she presented at IMGC, seeks to characterize the role of cathepsin Z in predicting severe TB disease outcomes.
While pursuing her BS in Microbiology at the University of Texas at Dallas, she studied the effect of chronic inflammation on treatment resistance in breast and prostate cancer cell lines in the lab of Dr. Nikki Delk.
In her senior year, she traveled to Paris, France to work at the Pasteur Institute under Dr. Xavier Montagutelli and Dr. Jean Jaubert. There, she used genetically diverse Collaborative Cross mice to study the role of host genetic diversity in predicting susceptibility to Salmonella Typhimurium infection.
In the Smith Lab in MGM, she now leverages genetically diverse mice including well-known inbred lines, recombinant inbred panels (BXD, Collaborative Cross), and outbred panels (Diversity Outbred) to explore the many ways in which variation between unique individuals can predict TB disease outcomes. Using data collected from Mtb infections in genetically diverse mice, Rachel now employs wet and dry lab approaches to study genetic loci that are strongly linked to susceptibility or resistance and clinical traits, such as inflammation, weight loss, and mortality.
In addition to her primary project presented at IMGC, her other projects include investigating a host locus linked with Mtb resistance by a unique immunological mechanism in CAST/EiJ mice and identifying host loci in the BXD mouse panel that mediate the in vivo requirement of specific Mtb genes in a transposon mutant library (TnSeq). Altogether, she aims to contribute to a growing body of work that adds nuance to patient care by considering the contribution of both host and bacterial genotype to TB patient outcomes.