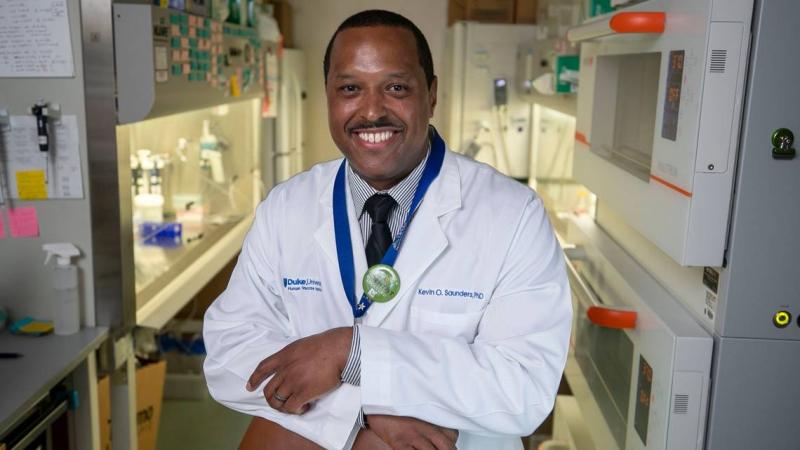 If a time does come when we can really say farewell to the coronavirus as a health concern, Kevin Saunders will be one of the people we have to thank.
Saunders is the director of research at the Duke Human Vaccine Institute, where his years of work creating a vaccine for human immunodeficiency virus accelerated the lab's ability to develop a vaccine that researchers hope will protect people from all coronaviruses, now and in the future.
Saunders has been pushing the boundary of making an HIV vaccine that has eluded scientists for decades. He had several novel discoveries in his pocket by the end of 2019, a time when the then-unknown respiratory virus had yet to disrupt the lives of Americans.
Then, in a matter of months, lives, institutions and activities were altered, including Saunders' lab, which pivoted its focus from HIV to the coronavirus. Its HIV discoveries laid the groundwork for rapid progress on a coronavirus vaccine.
"We thought of creating a vaccine with properties that the current vaccines lacked," he said. 
The first COVID-19 vaccines protected against some viruses, including the original 2019 virus and its variants. Booster shots were updated to provide additional protection against other contagious variants that caused severe health problems. Pfizer and Moderna offer two primary shots and two boosters, while Johnson & Johnson has one primary and one booster. But many scientists believe that an endless series of boosters, which extend immunity for only a few months, is neither practical nor sustainable. Saunders and his team at DHVI, building on their HIV research, have discovered a vaccine that may protect against any emerging coronavirus.
Anthony Fauci, the director of the National Institute of Allergy and Infectious Diseases and a White House senior adviser on COVID-19, cited their findings as a potential breakthrough and said his agency was highly interested in pursuing the development of human trials.
Saunders and his team want to conduct human trials on both of their vaccines — for HIV and coronavirus.
"My approach is to make a lot of progress to the point where we believe they are pretty close to being an effective vaccine," he said.
Researchers at DHVI are now working with vaccine production facilities in preparation for human clinical trials with their new vaccines. 
IMMERSION IN NC'S SCIENCE COMMUNITY
Originally from Roanoke, a Virginia city about 100 miles northwest of Durham, Saunders had many ties to North Carolina before taking over as a director of research at DHVI.
After high school in Virginia, he attended Davidson College, graduating in 2005 with a biology major. About 20 miles north of Charlotte, Davidson reports that about one-third of its domestic students are students of color. This year's school class has 9% Black students out of over 550 enrolled students.
Saunders said that throughout his early education, he was usually one of very few students of color in a class and he barely could find a single person of color who was a scientist. Many of those students, he said, were "advised out of science."
But Saunders' mother, a registered nurse, influenced his interest in diseases and showed him the impact a scientist could have. He stayed the course.
"I've always had great support from my parents and sisters," Saunders said. "Having family support is a big deal."
During the pandemic, his mother also treated patients who had COVID. "She has a real-world application, and I can talk about the research side of it," Saunders said.
Saunders pursued his career at Duke University working on immunology and virology and earned his doctoral degree in 2010. There, in graduate school, Saunders was introduced to the National Institutes of Health through a post-doctoral fellowship program and worked in NIH's Vaccine Research Center.
He was able to work with vaccine production facilities that collaborated closely with NIH to study antibodies, a compound made up of many different chemicals that are produced when a vaccine is injected into a human or animal body.
Saunders was inspired by NIH's on how antibodies work against HIV and how to create a single antibody that can recognize many different types of HIV.
When he returned to North Carolina, joining as an instructor and researcher at Duke in 2014, he immediately put to use his broad knowledge about viruses and vaccines.
"He did an excellent job," said Barton Haynes, Saunders' mentor and boss at DHVI who also collaborated with him on vaccines.
"That study began a wonderful partnership in working on HIV vaccines over the last eight years," Haynes added. 
BUILDING BLOCKS OF THE VACCINES
Vaccines can be made from parts of pathogens that have been modified so that they can no longer harm humans. When inactive pathogens are injected into the human body, the immune system responds by producing antibody proteins that bind to the pathogens. The binding prevents pathogens from contacting healthy cells and infecting them.
From the "drill" of using inactive pathogens, the vaccine helps the immune system remember how to produce defensive proteins to attack any harmful pathogens that may enter the body in the future.
Saunders' lab creates virus-like molecules that direct the immune system's production of defending proteins. His team synthesizes nanoparticles made up of chemicals and attaches them to pathogen chemicals. Their method can teach the immune system to generate antibodies that bind to specific sites on viruses.
When COVID struck, Saunders used the technology he had previously used to combat the HIV virus. By replacing the outer chemicals with a coronavirus pathogen, Saunders and his team created a harmless copy of the coronavirus that promotes the creation of antibodies.
The Duke researchers tested the nanoparticle vaccine by injecting it into monkeys and found it provides protection against groups of coronaviruses, including the one that causes COVID-19, other variants and the SARS virus.
Adapting the nanotechnology the researchers developed for HIV allowed Saunders and his team to make "very rapid progress" on designing a coronavirus vaccine, Haynes said.
SEEING WHAT HE SAW
Saunders, who played football in college, describes himself as "competitive by nature." He does not appear to be shy about sharing his competitive team spirit with his lab members.
"I want us to do well," he said. "I want us to be able to show up and say our science had a big impact, which means we have to work hard and fast."
James Counts, one of Saunders' lab researchers, said Saunders always "works very hard not just to survive in academia but also to mentor and train young scientists."
Counts completed his Ph.D. from North Carolina State University studying microorganisms that live in harsh environments like high temperatures, which bears little resemblance to virology or immunology.
Working as a post-doctoral researcher, Counts acknowledges that the expectations are high for researchers at this stage of their career. But he said Saunders struck a good balance between directing the work and also allowing him to figure things out on his own.
Saunders' enthusiasm for mentoring is likely a result of his education and training experiences. Breaking barriers himself, Saunders strives to set an example for young scientists.
Many factors need to come together for a person to have a successful science career, Saunders said, and he credited his early-career success to his mentors and the encouraging environment in his schools and institutions.
Saunders has a mantra for supporting younger scientists: "First and foremost, encouraging people and letting them know that this is a path that they can take."
Even many years after leaving Davidson, Saunders brings Davidson students into his Duke lab through a research program, providing mentorship and research resources, and showing them that science is a career option and what it takes to be successful.
"I tell my trainees in my lab that you'll learn from me," he said, "but if I'm not the best person to teach you, we'll go next door and talk to the world's top experts, and you'll learn from them."
"That's when magic happens," Haynes said, "when people are willing to work together and learn from each other."
This story was originally published August 13, 2022 7:00 AM. CHIUNGWEI HUANG
Read more at: https://www.newsobserver.com/news/coronavirus/article263347233.html#sto…