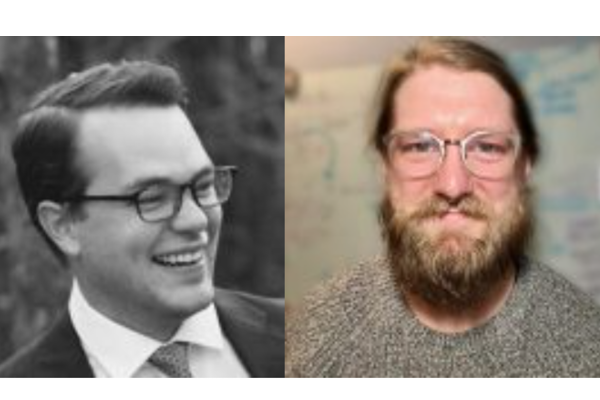 Elliott SoRelle, PhD (Luftig Lab) and Matthew Thompson, PhD (Horner Lab) have been awarded American Cancer Society (ACS) Postdoctoral Fellowships.
"I am honored and grateful to have received a postdoctoral fellowship from the American Cancer Society," says Dr. SoRelle, whose project title is Resolving the origins of restricted fate in Epstein-Barr Virus-induced B lymphocyte proliferation. "This fellowship provides essential support for my research with Dr. Micah Luftig (MGM) and Dr. Cliburn Chan (Dept. of Biostatistics & Bioinformatics) to dissect and model the critical early stages of Epstein-Barr Virus (EBV) infection at single-cell resolution. I am especially excited that this award will help us gain deeper understanding of the host-pathogen dynamics that govern the diverse fates that EBV-infected B cells may experience — a spectrum of outcomes ranging from growth arrest mediated by host antiviral responses to virus-driven oncogenic potential. This work will shed light on key gene regulatory events that underlie the establishment of lifelong infection by a virus associated with over 200,000 human cancers diagnosed each year."
His sponsor Dr. Micah Luftig reflects, "Elliott is an outstanding postdoc in the lab who has dedicated himself to learning and applying computational tools to interesting questions at the virus/ host interface. After being supported by the long standing Viral Oncology Training Grant, his recent single cell studies have been recognized by the American Cancer Society with a postdoctoral fellowship. I look forward to seeing what Elliott discovers in these exciting studies supported by the ACS."
Dr. Thompson's project is entitled Defining the mechanism by which a novel m6A-binding protein shields cells from immunostimulatory RNA. Interferon has shown promise as an adjuvant in cancer therapy and as a cancer prognostic. However, patients have different response rates to interferon therapies. As such, understanding how cells respond to interferon, as well as the mechanisms that regulate interferon induction, are important to guide the use and development of interferon-based cancer therapeutics. Dr. Thompson has identified a novel interferon-induced RNA binding protein that prevents aberrant interferon induction. His work on this fellowship will determine the cellular RNAs bound by this protein, the mechanism by which they are detected, and how this protein prevents aberrant interferon induction by dysregulated cellular RNA. Dr. Thompson received his PhD from the University of Pennsylvania Perelman School of Medicine and his BS from Kent State University.
"The fellowship is extremely helpful for me progressing as a trainee," says Dr. Thompson. "In addition to the research, Stacy and I came up with a great training plan in the proposal that includes conferences and workshops as well as meeting with a postdoctoral advisory committee to give me advice about moving forward in my career."
His sponsor Dr. Stacy Horner comments, "Matthew brings a wealth of RNA-protein interaction knowledge to the lab and to MGM, having done his PhD on the regulation of splicing during viral infection. This expertise has helped him to make the exciting discovery that a specific interferon-induced RNA binding protein, described by others as binding to viral RNA, also plays an important role in sensing specific mis-regulated host RNA to limit improper induction of IFN. His approach to this project has been creative and innovative, and he is always thinking about how to tackle his next experimental questions. I enjoy brainstorming with Matthew, and I'm looking forward to working with him more on this project during his fellowship!"