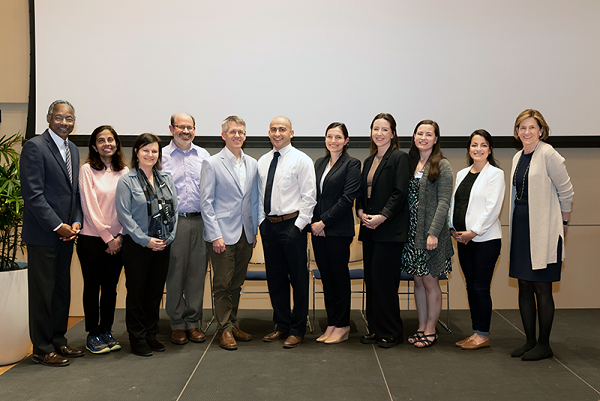 Graduate students at Duke University who are laying the groundwork for new health care innovations were honored March 1 at the Chancellor's Award for Research Excellence (CARE) ceremony.
This year the School of Medicine and the Office of Biomedical Graduate Education awarded five students for basic science achievements in brain health and development, infectious disease, and gene therapy for a rare disease. Three of the five are MGM students: Brooke D'Arcy (Silver lab), Rebecca Gibson (Kishnani lab), and Mollie Sweeney (Tobin lab).
Advocating for graduate students is at the center of leadership by MGM's Beth Sullivan, associate dean for research training, whom Chancellor A. Eugene Washington praised for nurturing and supporting graduate student research and education.
The award winners were joined at the ceremony by their family and faculty mentors, including MGM's Debby Silver, David Tobin, and Priya Kishnani.
Click here to read more.