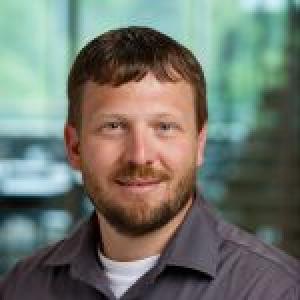 Principal Investigator
Assistant Professor of Molecular Genetics and Microbiology
Assistant Professor of Cell Biology

Research
Maintenance of protein homeostasis (proteostasis) is critical for cell survival. In many neurodegenerative diseases the loss of proteostasis is thought to be one of the underlying causes of neuronal loss. To counteract disruptions in proteostasis cells encode a number of molecular chaperones and ubiquitination enzymes that function to either refold or degrade misfolded proteins. Research in my laboratory focuses on understanding how these pathways play a protective role in neurodegenerative diseases. Below is an outline of major research programs in the lab.
1) Proteostasis in Dictyostelium discoideum
The polyglutamine diseases are a group of nine neurodegenerative diseases cause by expansion of a polyglutamine (polyQ) tract in the coding region of specific genes. PolyQ expansion causes these proteins to misfold and aggregate, and these protein aggregates are thought to drive neuronal death. Unlike other sequenced genomes the social amoeba Dictyostelium discoideum normally encodes massive amounts of polyglutamine repeats and many of these repeats reach the pathogenic range. Work from our group and others has demonstrated that unlike other model organisms Dictyostelium is naturally resistant to polyQ aggregation (Santarriaga et al, J Biol, Chem 2015; Malinovska L et al, PNAS, 2015). Further work from our group has identified a novel molecular chaperone we named serine-rich chaperone protein 1 (SRCP1) that is both necessary for Dictyostelium's resistance to polyQ aggregation and sufficient to impart resistance to other organisms (Santarriaga et al, Mol Cell, 2018). Ongoing work in the lab is focused on answering these questions:
What is the mechanism SRCP1 utilizes to suppress polyQ aggregation?
Can SRCP1 suppress aggregation of proteins implicated in other neurodegenerative diseases like Alzheimer's disease, Parkinson's disease, and ALS?
Does SRCP1 have beneficial effects in mouse models of neurodegenerative diseases?
What is the function of the other SRCP1 like proteins encoded in Dictyostelium's genome?
2) Development of small molecule regulators of the E3 ligase CHIP
C-terminus of Hsc70 Interacting Protein (CHIP) is an important E3 ligase that sits at the interface of protein folding and protein degradation. CHIP recruits molecular chaperones via a N-terminal tetratricopeptide repeat domain, and recruits E2 ubiquitin conjugating enzymes via a C-terminal U-box domain. Together these domains bring chaperone-bound client proteins into close proximity with E2 ubiquitin conjugating enzymes to facilitate ubiquitination of misfolded proteins. In vivo CHIP plays an important neuroprotective role and mutations in CHIP cause a rare neurodegenerative disease called Spinocerebellar ataxia autosomal recessive 16 (SCAR16). Our lab has found that the mutations in CHIP that cause SCAR16 do so mostly by destabilizing CHIP (Kanack et al, J Biol Chem, 2018). Using this information, we have established a high throughput screening method to identify small molecules that alter CHIP activity. Currently we are investigating lead molecules to determine if they may be useful for treating neurodegenerative diseases.
3) Investigation of Ube2w, a novel E2 ubiquitin conjugating enzyme
Ubiquitin conjugating enzymes (E2's) typically attach ubiquitin to lysine residues on their substrates. Unlike other E2's Ube2w conjugates ubiquitin to the alpha amino terminus of proteins and not to internal lysine residues (Scaglione et al, J Biol Chem, 2013; Tatham et al, Biochem, 2013). Despite this novel biochemical property of Ube2w little is known about Ube2w's physiological function. We are currently employing genome and proteome wide approaches to understand the physiological function of Ube2w and N-terminal ubiquitination.
Biography
Matt has an undergraduate degree in Biology from McKendree University.  For his graduate work Matt attended Saint Louis University's School of Medicine where he studied mechanisms that regulate ubiquitin transfer.  During his graduate studies Matt became interested in understanding protein homeostasis in neurodegenerative diseases and later joined Dr. Henry Paulson's lab at the University of Michigan.  In Dr. Paulson's lab Matt investigated mechanisms that regulate the neuroprotective E3 ligase CHIP and identified Ube2w as the first enzyme that mediates N-terminal ubiquitination.  Following his postdoctoral studies Matt joined the Department of Biochemistry at the Medical College of Wisconsin as an Assistant Professor.  At the Medical College of Wisconsin Matt became interested in how protein homeostasis in the social amoeba Dictyostelium discoideum and this became the main focus of his research.  In January of 2019 Matt moved to the Duke Center for Neurodegeneration and Neurotherapeutics at Duke University.  Matt is currently at Assistant Professor in the Department of Molecular Genetics and Microbiology with a secondary appointment in the Department of Neurology at Duke University.
Lab Members
Alumni
Postdoctoral Associates
Kuili Fang, PhD
PhD Students
Stephanie Santarriaga, PhD, Research Fellow in Dr. Rakesh Karmacharya's group, Harvard
Adam Kanack, PhD, Postdoctoral Fellow in Dr. Nancy Dahm's group, Medical College of Wisconsin
 Master's Students
Kelechi Ndukwe, MS, PhD Student, City University of New York
Madeline Brunner, MS, Clinical Consultant, Triage Consulting
 Undergraduate Students
Nathaniel Rein, Graduate Student, University of Wisconsin Milwaukee
Brittany Lyda, Physician's Assistant Student, Marquette University
Chandler McElrath, Graduate Student, Medical College of Wisconsin
Sara Rubovits, Post Baccalaureate Fellow, NIH
Austin Goff, Medical Student, AT Still University
Post Baccalaureate Researchers
Holland Galante, Graduate Student, North Dakota State University
Xiang Feng, OBGYN Resident, University of Louisville
Kayla Rude, Graduate Student, University of California Davis
Oliver Newsom, MD/PhD Student, University of Washington
Alicia Fikejs, Physician's Assistant Student, Barry University
Katy LaFond, Graduate Student, Medical College of Wisconsin
Mahmoud Abu Eid, Graduate Student, Medical College of Wisconsin
Publications
Independent lab
Tsou WL, Burr AA, Ouyang M, Blount JR, Scaglione KM, Todi SV. Ubiquitination regulates the neuroprotective function of the deubiquitinase ataxin-3 in vivo. J Biol Chem. 2013 Nov 29;288(48):34460-9. PMCID: PMC3843061
Blount JR, Tsou WL, Ristic G, Burr AA, Ouyang M, Galante H, Scaglione KM, Todi SV. Ubiquitin-binding site 2 of ataxin-3 prevents its proteasomal degradation by interacting with Rad23. Nat Commun. 2014 Aug 21;5:4638. PMCID: PMC4237202
Zhang H, Amick J, Chakravarti R, Santarriaga S, Schlanger S, McGlone C, Dare M, Nix JC, Scaglione KM, Stuehr DJ, Misra S, Page RC. A bipartite interaction between Hsp70 and CHIP regulates ubiquitination of chaperoned client proteins. Structure. 2015 Mar 03;23(3):472-482. PMCID: PMC4351142
Faggiano S, Menon RP, Kelly GP, Todi SV, Scaglione KM, Konarev PV, Svergun DI, Paulson HL, Pastore A. Allosteric regulation of deubiquitylase activity through ubiquitination. Front Mol Biosci. 2015;2:2. PMCID: PMC4428445
Santarriaga S, Petersen A, Ndukwe K, Brandt A, Gerges N, Bruns Scaglione J, Scaglione KM. The Social Amoeba Dictyostelium discoideum Is Highly Resistant to Polyglutamine Aggregation. J Biol Chem. 2015 Oct 16;290(42):25571-8. PMCID: PMC4646202
Wang B, Merillat SA, Vincent M, Huber AK, Basrur V, Mangelberger D, Zeng L, Elenitoba-Johnson K, Miller RA, Irani DN, Dlugosz AA, Schnell S, Scaglione KM, Paulson HL. Loss of the Ubiquitin-conjugating Enzyme UBE2W Results in Susceptibility to Early Postnatal Lethality and Defects in Skin, Immune, and Male Reproductive Systems. J Biol Chem. 2016 Feb 05;291(6):3030-42. PMCID: PMC4742764
Ristic G, Tsou WL, Guzi E, Kanack AJ, Scaglione KM, Todi SV. USP5 Is Dispensable for Monoubiquitin Maintenance in Drosophila. J Biol Chem. 2016 Apr 22;291(17):9161-72. PMCID: PMC4861482
Lass A, Cocklin R, Scaglione KM, Skowyra M, Korolev S, Goebl M, Skowyra D. Erratum to: The loop-less Cdc34 E2 mutant defective polyubiquitination in vitro and in vivo supports yeast growth in a manner dependent on Ubp14 and Cka2. Cell Div. 2016;11:13. PMCID: PMC5054535
Sutton JR, Blount JR, Libohova K, Tsou WL, Joshi GS, Paulson HL, Costa MDC, Scaglione KM, Todi SV. Interaction of the polyglutamine protein ataxin-3 with Rad23 regulates toxicity in Drosophila models of Spinocerebellar Ataxia Type 3. Hum Mol Genet. 2017 04 15;26(8):1419-1431. PMCID: PMC6075452
Wang B, Zeng L, Merillat SA, Fischer S, Ochaba J, Thompson LM, Barmada SJ, Scaglione KM, Paulson HL. The ubiquitin conjugating enzyme Ube2W regulates solubility of the Huntington's disease protein, huntingtin. Neurobiol Dis. 2018 Jan;109(Pt A):127-136. PMCID: PMC5973538
Kanack AJ, Newsom OJ, Scaglione KM. Most mutations that cause spinocerebellar ataxia autosomal recessive type 16 (SCAR16) destabilize the protein quality-control E3 ligase CHIP. J Biol Chem. 2018 Feb 23;293(8):2735-2743. PMCID: PMC5827432
Santarriaga S, Haver HN, Kanack AJ, Fikejs AS, Sison SL, Egner JM, Bostrom JR, Seminary ER, Hill RB, Link BA, Ebert AD, Scaglione KM. SRCP1 Conveys Resistance to Polyglutamine Aggregation. Mol Cell. 2018 Jul 19;71(2):216-228.e7. PMCID: PMC6091221
Santarriaga S, Fikejs A, Scaglione J, Scaglione KM. A Heat Shock Protein 48 (HSP48) Biomolecular Condensate Is Induced during Dictyostelium discoideum Development. mSphere. 2019 Jun 19;4(3).314-319 PMCID: PMC6584373
Madrigal SC, McNeil Z, Sanchez-Hodge R, Shi CH, Patterson C, Scaglione KM, Schisler JC. Changes in protein function underlies the disease spectrum in patients with CHIP mutations. J Biol Chem. 2019 Dec 13;294(50):19236-19245 PMCID: PMC6916485
Kanack AJ, Vittal V, Haver H, Keppel T, Gundry RL, Klevit RE, Scaglione KM. UbcH5 Interacts with Substrates to Participate in Lysine Selection with the E3 Ubiquitin Ligase CHIP. Biochemistry. 2020 May 13 (online)
Postdoctoral Fellow
Winborn BJ, Travis SM, Todi SV, Scaglione KM, Xu P, Williams AJ, Cohen RE, Peng J, Paulson HL. The deubiquitinating enzyme ataxin-3, a polyglutamine disease protein, edits Lys63 linkages in mixed linkage ubiquitin chains. J Biol Chem. 2008 Sep 26;283(39):26436-43. PMCID: PMC2546540
Todi SV, Winborn BJ, Scaglione KM, Blount JR, Travis SM, Paulson HL. Ubiquitination directly enhances activity of the deubiquitinating enzyme ataxin-3. EMBO J. 2009 Feb 18;28(4):372-82. PMCID: PMC2646149
Todi SV, Scaglione KM, Blount JR, Basrur V, Conlon KP, Pastore A, Elenitoba-Johnson K, Paulson HL. Activity and cellular functions of the deubiquitinating enzyme and polyglutamine disease protein ataxin-3 are regulated by ubiquitination at lysine 117. J Biol Chem. 2010 Dec 10;285(50):39303-13. PMCID: PMC2998082
Lass A, Cocklin R, Scaglione KM, Skowyra M, Korolev S, Goebl M, Skowyra D. The loop-less tmCdc34 E2 mutant defective in polyubiquitination in vitro and in vivo supports yeast growth in a manner dependent on Ubp14 and Cka2. Cell Div. 2011 Mar 31;6:7. PMCID: PMC3080790
Scaglione KM, Zavodszky E, Todi SV, Patury S, Xu P, Rodríguez-Lebrón E, Fischer S, Konen J, Djarmati A, Peng J, Gestwicki JE, Paulson HL. Ube2w and ataxin-3 coordinately regulate the ubiquitin ligase CHIP. Mol Cell. 2011 Aug 19;43(4):599-612. PMCID: PMC3166620
Thompson AD, Scaglione KM, Prensner J, Gillies AT, Chinnaiyan A, Paulson HL, Jinwal UK, Dickey CA, Gestwicki JE. Analysis of the tau-associated proteome reveals that exchange of Hsp70 for Hsp90 is involved in tau degradation. ACS Chem Biol. 2012 Oct 19;7(10):1677-86. PMCID: PMC3477299
Todd PK, Oh SY, Krans A, He F, Sellier C, Frazer M, Renoux AJ, Chen KC, Scaglione KM, Basrur V, Elenitoba-Johnson K, Vonsattel JP, Louis ED, Sutton MA, Taylor JP, Mills RE, Charlet-Berguerand N, Paulson HL. CGG repeat-associated translation mediates neurodegeneration in fragile X tremor ataxia syndrome. Neuron. 2013 May 08;78(3):440-55. PMCID: PMC3831531
Scaglione KM, Basrur V, Ashraf NS, Konen JR, Elenitoba-Johnson KS, Todi SV, Paulson HL. The ubiquitin- conjugating enzyme (E2) Ube2w ubiquitinates the N terminus of substrates. J Biol Chem. 2013 Jun 28;288(26):18784-8. PMCID: PMC3696654
Smith MC, Scaglione KM, Assimon VA, Patury S, Thompson AD, Dickey CA, Southworth DR, Paulson HL, Gestwicki JE, Zuiderweg ER. The E3 ubiquitin ligase CHIP and the molecular chaperone Hsc70 form a dynamic, tethered complex. Biochemistry. 2013 Aug 13;52(32):5354-64. PMCID: PMC3856692
Blair LJ, Nordhues BA, Hill SE, Scaglione KM, O'Leary JC 3rd, Fontaine SN, Breydo L, Zhang B, Li P, Wang L, Cotman C, Paulson HL, Muschol M, Uversky VN, Klengel T, Binder EB, Kayed R, Golde TE, Berchtold N, Dickey CA. Accelerated neurodegeneration through chaperone-mediated oligomerization of tau. J Clin Invest. 2013 Oct;123(10):4158-69. PMCID: PMC3784538
Tsou WL, Burr AA, Ouyang M, Blount JR, Scaglione KM, Todi SV. Ubiquitination regulates the neuroprotective function of the deubiquitinase ataxin-3 in vivo. J Biol Chem. 2013 Nov 29;288(48):34460-9. PMCID: PMC3843061
Faggiano S, Menon RP, Kelly GP, McCormick J, Todi SV, Scaglione KM, Paulson HL, Pastore A. Enzymatic production of mono-ubiquitinated proteins for structural studies: The example of the Josephin domain of ataxin-3. FEBS Open Bio. 2013;3:453-8. PMCID: PMC3829987
Vittal V, Shi L, Wenzel DM, Scaglione KM, Duncan ED, Basrur V, Elenitoba-Johnson KS, Baker D, Paulson HL, Brzovic PS, Klevit RE. Intrinsic disorder drives N-terminal ubiquitination by Ube2w. Nat Chem Biol. 2015 Jan;11(1):83-9. PMCID
Graduate Student
Deffenbaugh AE, Scaglione KM, Zhang L, Moore JM, Buranda T, Sklar LA, Skowyra D. Release of ubiquitin- charged Cdc34-S – Ub from the RING domain is essential for ubiquitination of the SCF(Cdc4)-bound substrate Sic1. Cell. 2003 Sep 05;114(5):611-22.
Kim HT, Kim KP, Lledias F, Kisselev AF, Scaglione KM, Skowyra D, Gygi SP, Goldberg AL. Certain pairs of ubiquitin-conjugating enzymes (E2s) and ubiquitin-protein ligases (E3s) synthesize nondegradable forked ubiquitin chains containing all possible isopeptide linkages. J Biol Chem. 2007 Jun 15;282(24):17375-86.
Scaglione KM, Bansal PK, Deffenbaugh AE, Kiss A, Moore JM, Korolev S, Cocklin R, Goebl M, Kitagawa K, Skowyra D. SCF E3-mediated autoubiquitination negatively regulates activity of Cdc34 E2 but play nonessential role in the catalytic cycle in vitro and in vivo. Mol Cell Biol. 2007 Aug;27(16):5860-70. PMCID: PMC1952114
Lass A, Cocklin R, Scaglione KM, Skowyra M, Korolev S, Goebl M, Skowyra D. The loop-less tmCdc34 E2 mutant defective in polyubiquitination in vitro and in vivo supports yeast growth in a manner dependent on Ubp14 and Cka2. Cell Div. 2011 Mar 31;6:7. PMCID: PMC3080790