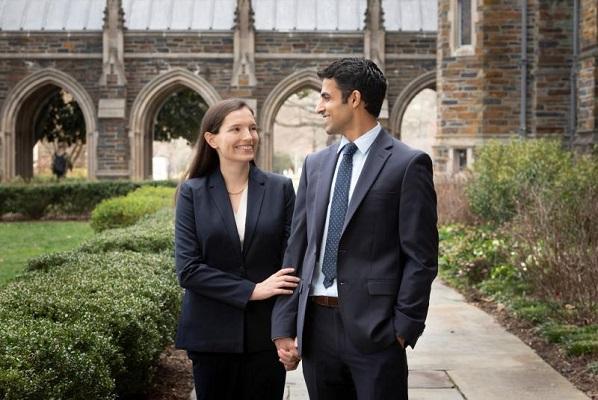 MD/PhD candidates Rebecca Gibson (Kishnani Lab) and Bijan Abar were recently the subjects of the Duke Graduate School story "Engaged Mentors".
Rebecca and Bijan met on their first day of medical school in 2016. After years of playing frisbee between classes, bonding through the Duke Med Interfaith club, and bringing food to each other during clinical rotations, the two are now engaged.
"I feel like we're kind of like puzzle pieces," Gibson said. "Our differences complement each other and fit together because we have the same values and goals. We both clearly value education, and we put a lot of effort into our relationships and trying to help other people. Another shared value we have is mentoring."
Their shared emphasis on mentoring was spotlighted last month when they both received The Graduate School's Dean's Award for Excellence in Mentoring. They were among 13 recipients of the Dean's Awards, which recognize outstanding efforts by graduate students, faculty, and departments in mentoring, teaching, and creating inclusive spaces for graduate education.
Click here to read the entire article.