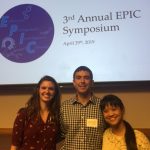 (please click photo for photo gallery from Symposium)
Please save the date for the 3rd Annual EPIC Symposium, an interdisciplinary symposium hosted by the Eukaryotic Pathogenesis Investigators Colloquia (EPIC) and the Tri-Institutional Molecular Mycology and Pathogenesis Training Program (Tri-I MMPTP). This event is supported by the Duke University School of Medicine Malaria Investigators Group Interdisciplinary Colloquium, Duke University Departments of Biochemistry, Chemistry, and Molecular Genetics and Microbiology, CHoMI, and the Tri-I-MMPTP.
Please forward this announcement to your lab members and colleagues who may be interested!
Date: 9:00 AM – 5:45 PM, Friday April 26th, 2019
Location: 103 Bryan Research, Duke University Medical Center, Durham, NC
Symposium overview: Duke University is an internationally recognized leader in medical mycology and expanding substantially into parasitology as well. The goal of EPIC is to foster interactions among the talented community of scientists studying eukaryotic pathogens at Duke and in the Triangle Area. EPIC is a regional seminar series focused broadly on eukaryotic pathogens. The 3rd Annual EPIC Symposium will consist of two sections focused on fungal and parasitic pathogenesis and will feature both clinical and basic research talks.
Career Panel and Luncheon: We have included a career session with invited guests Chelsea Boyd, PhD (NIH), Mike Price, PhD (Liberty University), Jonny Williams, PhD (Labcorp)
Talks: Presentations will be made by David Blehert, PhD (National Wildlife Health Center, Madison, WI), Bill Goldman, PhD (University of North Carolina Chapel Hill, School of Medicine), Xiaorong Lin, PhD (University of Georgia), Joe Smith, PhD (University of Washington), Regina Cordy, PhD (Wake Forest University), Myaing Myaing Nyunt, MD, MPH, PhD (Duke University, Global Health Institute)
Poster presentations: Graduate students and postdoctoral fellows are invited and encouraged to present at the poster session during the symposium.
Registration: Please register at  http://tinyurl.com/y9gq875q  by April 5th for our planning purposes.
Contact information: Hannah Brown (hannah.e.brown@duke.edu), Alex Antonia (alejandro.antonia@duke.edu), Zanetta Chang (zanetta.chang@duke.edu)